For makeup enthusiasts and professional makeup artists alike, organization and portability are essential factors in creating a seamless beauty routine. The
Colonne Rolling Makeup Case
by
Ver Beauty
is a game-changer in the world of cosmetics storage and transportation. In this article, we will delve into the features, benefits, and reasons why the Colonne Rolling Makeup Case has become a must-have for beauty enthusiasts and professionals.
Design and Build Quality
The Colonne Rolling Makeup Case boasts a sleek and modern design that is not only visually appealing but also highly functional. Crafted from high-quality materials, this makeup case is built to withstand the demands of daily use. Its robust construction ensures that your makeup collection remains safe and secure during travel.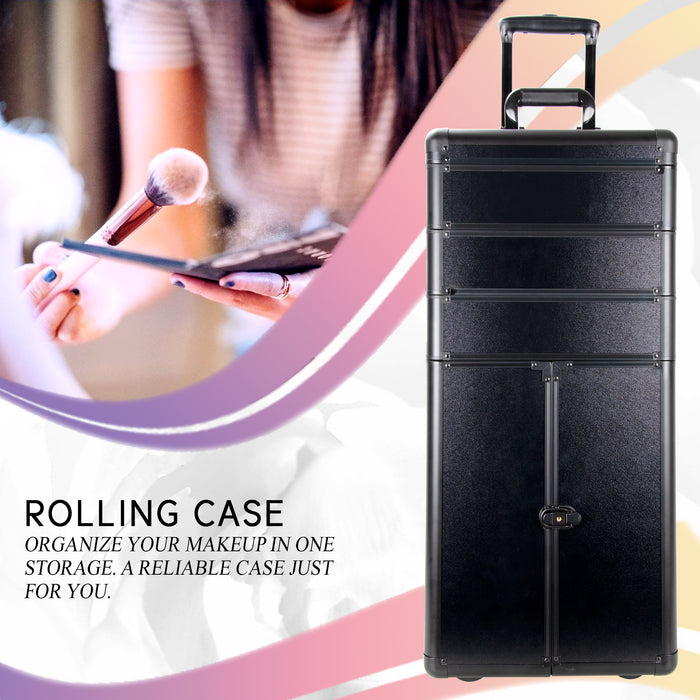 Spacious Storage
One of the standout features of the Colonne Rolling Makeup Case is its ample storage capacity. With multiple compartments, drawers, and adjustable dividers, you can customize the interior to accommodate your entire makeup collection. From lipsticks to eyeshadows, brushes, and skincare products, there's a designated space for everything, helping you stay organized and efficient.
Easy Mobility
The built-in wheels and retractable handle make the Colonne Rolling Makeup Case effortlessly mobile. Whether you're traveling for a destination wedding or simply moving from room to room, this case simplifies the process. The sturdy wheels glide smoothly, even on uneven surfaces, ensuring that you can transport your makeup collection with ease.
Durability and Security
Makeup collections can be valuable, both in terms of cost and sentimental value. The Colonne Rolling Makeup Case is designed with security in mind. Its robust locking system ensures that your cosmetics remain safe and protected. The combination locks provide an extra layer of security, giving you peace of mind when traveling.
Versatility
This makeup case isn't just for storing cosmetics. Its versatility extends to various professions and purposes. Makeup artists, hair stylists, and beauty influencers can benefit greatly from the Colonne Rolling Makeup Case. Additionally, it can be used for storing art supplies, jewelry, or even as a stylish tool chest.
Portability and Convenience
Whether you're a professional makeup artist working on location or a beauty enthusiast heading to a friend's house for a makeover session, the Colonne Rolling Makeup Case simplifies the process. Its compact design and lightweight construction make it easy to transport. The telescopic handle and durable wheels ensure you can effortlessly roll it wherever you need it.
Stylish Aesthetic
The Colonne Rolling Makeup Case isn't just practical; it's also a stylish accessory. Its modern design and sleek finish elevate the aesthetics of any beauty setup. You'll not only have a functional makeup storage solution but also a chic addition to your space.
Conclusion
In the world of makeup storage and organization, the
Colonne Rolling Makeup Case
by Ver Beauty stands out as a versatile, durable, and stylish solution. Whether you're a professional makeup artist or a beauty enthusiast, this case offers the perfect blend of functionality and aesthetic appeal. With ample storage space, easy mobility, and enhanced security, it simplifies your beauty routine and adds a touch of glamour to your setup. Make the Colonne Rolling Makeup Case your go-to choice for keeping your cosmetics collection in perfect order, at home or on the go.